Key Takeaways
Despite their size and reputation, we didn't find a lot to be impressed by at Helzberg.
They have a very broad selection of goods, which creates something of a 'mixed bag' feel. There's nothing inherently wrong with this, but, when you're shopping for the most important piece of jewelry you will ever buy, it never hurts to make the process as focused and special as possible.
The Masterpiece collection, while clearly superior, may not be the best choice for shoppers.
Stay clear of lab grown diamonds and moissanite. While they've gained popularity as cheap alternatives to diamond, these lower costs don't get plucked out of nowhere.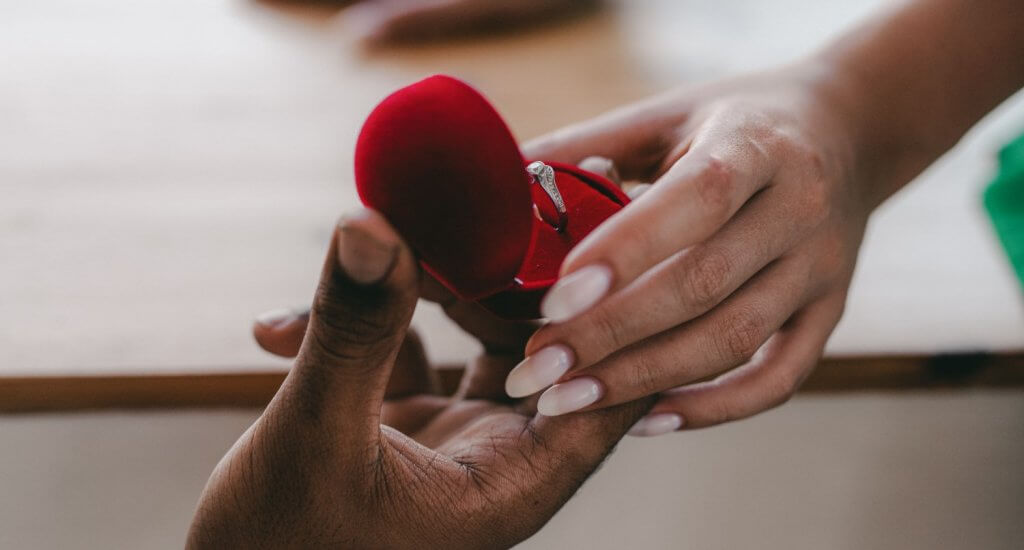 Helzberg Diamonds is a big name in the jewelry world – one that most of our readers have undoubtedly heard, passed by, and no doubt considered for themselves already. With more than two hundred locations, they're a true powerhouse – a statement that may be a positive, may be a negative, depending on which way you look at it.
Why? Because Helzberg Diamonds' business model is highly effective for them, but not necessarily the type of experience we'd consider recommending to our readers. They are a veritable powerhouse of the jewelry world, but is that really what you're looking for when you set out to purchase the perfect engagement ring?
Our rating: one star
The positives: in-store experience, and some GIA certified diamonds available.
The negatives: lacking a personal touch, and offering a confusing array of choice (both in terms of quality and price) that doesn't seem conducive to shoppers finding the perfect ring for the best possible price.
The Brand
Helzberg Diamonds is considerably older than some of the other big jewelry chains we've reviewed, having opened its first set of doors way back in 1915, in Kansas City.
If you've read many of our reviews before, you'll know that we're pretty fond of the bricks-and-mortar jewelry stores that have been around (and growing) throughout generations. We appreciate the rich history and romantic narrative that accompanies a jewelry store with so many stories behind it, but it's hard to bring about that same quaint approach to Helzberg Diamonds given the size of the brand these days.
True, they've worked to retain that 'vibe', although their stores tend to feel a little copy-paste and, often, it can feel a little gimmicky. In 2019, they started to ordain a few of their associates so that couples could actually get married in their stores. It never really took off, and you could probably go your whole life without meeting a single couple who said 'I Do' between the Movado and Enchanted Disney displays.
It's clear that Helzberg are trying to cater to as many customer types as possible. Their offerings extend from in-store shopping to an online 'Create Your Own' process reminiscent of the big online vendors. As well as natural diamonds, they also offer lab grown diamonds and moissanite.
Helzberg Diamonds do use the GIA for diamond grading, but also a variety of other labs, including the AGS and GCAL. Their reasonings for using multiple labs are unclear, even in spite of the fact that they voluntarily answer that exact question on their website. Generally, using a variety of grading labs holds no benefit at all for the shopper – it allows jewelers to offer a broader range of price points for their diamonds, without having to acknowledge their inferior quality.
The Experience
For the most part, Helzberg Diamonds is geared toward the mass market. It's designed to cater to the high demand that comes with the territory of operating more than two hundred stores across the US, and, as a result, isn't going to be able to offer the same unique, intimate experience you'd associate with a smaller store. Their desire to cater to all price points means that a lot of their diamonds are low quality and not worth the investment.
In other words, we don't feel that shopping at Helzberg is a luxury. Obviously, if you're catering to the lower- and mid-range price points, it's not quite so easy to ensure a luxury experience – but, then again, stores like Lux Bond & Green have been offering just that for well over a century.
Their stores are pretty middle-of-the-road, and largely reminiscent of other mall jewelry stores we've talked about in the past. When you've got as much choice (in terms of quality, certification, price, and design) as a store like Helzberg offers, you want to make sure you've got the very best level of service from the person serving you. A jeweler needs to help you navigate those decisions but, as a result of Helzberg's sheer size, there's a lot of inconsistency from store to store in terms of the service you'll receive.
Masterpiece Diamonds
Helzberg do offer some high quality diamonds. Their Masterpiece collection are all AGS certified, with Ideal (0) Cut grades, ensuring that they offer a very impressive light performance. In store, they can come across as highly impressive; your sales associate can show you the diamond through a special viewer, and you can see the hearts and arrows phenomenon for yourself (something you'll never see again, once the diamond is mounted in a setting, of course). Hearts and Arrows diamonds, while fascinating, simply aren't worth the premium stores can attach to them.
The Masterpiece collection creates a pretty notable divide between the store's high quality offerings, and 'the rest'. As an inexperienced shopper, it would be all too tempting to disregard the confusion of a collection of differently graded diamonds in favor of the simplicity of a Masterpiece diamond, even if there was a pretty dramatic difference in terms of cost.
The Cost
It's pretty hard to make any sweeping statements about Helzberg's prices, since the sheer variety of diamonds on offer from this store means that you could pretty much find something for any budget – a fact which naturally means that quality is a major
At first, it can be hard to grasp by a jewelry store with a reputation and customer base to maintain would bother stocking diamonds that are simply not worth the money shoppers could spend on them, but doing so represents a pretty easy way to compete – or to appear to compete – with other budget sellers and online vendors.
Of course, the only effective way to compete with these cheap options is to prove how worthwhile good quality (both in terms of service, and the product itself) really is. Novelties like online shopping (for purchases of this size) will come and go, but the unrivalled quality of a truly valuable jewelry store will never be unseated.
FAQ
Are Helzberg Diamonds Real Diamonds?
Yes, Helzberg Diamonds do offer real diamonds.
They also offer lab grown diamonds, and cheaper simulants like Moissanite, however.
Is Helzberg Diamonds Good?
Helzberg diamonds is a highly reputable and long-established jewelry store, although the type of service it offers will not appeal to everyone.
There's nothing inherently wrong with Helzberg's business model, but they don't' sit high on our list of recommendations for shoppers.
Is Helzberg Diamonds Closing?
No. Helzberg closed a number of stores in 2017, but the brand remains fully operational.
Arrangements were made to transfer customers with Lifetime Care Warranties, and Helzberg has continued to operate successfully since then.
Does Warren Buffett Own Helzberg?
Yes, Warren Buffett owns Berkshire Hathaway, which acquired Helzberg in 1995.
Berkshire Hathaway also owns brands as diverse as Dairy Queen, Fruit of the Loom, Duracell and NetJets – to name just a few.
Is Helzberg Doing Ring Cleanings?
Yes, and getting regular cleanings every six months is essential to upholding their Lifetime Care Plan.
Besides, it's always better to keep up a regular schedule for ring cleaning and inspection.
Can I Sell My Ring Back to Helzberg?
Returns need to be made within 30 days, and only on items that have not been customized.
If you get an engraving, for instance, Helzberg will not accept a return on your ring.
Does Helzberg Insurance Cover Lost?
Helzberg do not offer insurance for their pieces.
Their Jewelry Guarantee includes a lifetime care plan, but doesn't contain any stipulations for loss or theft.
How Long has Helzberg Diamonds Been in Business?
For more than 105 years, since 1915.
While the first store opened on Minnesota Avenue in Kansas City, they have now grown into thirty-four states.
Our Summary
At WillYou.Net, we're not as quick to write-off the big chain stores, easily recognizable names, or mall jewelers as some other reviewers are. Sure, they're often lacking the same level of intimacy and uniqueness as some of the smaller, local, or family-owned jewelry stores we so often recommend to our readers, but that's not necessarily a reason to write them off on sight.
Why? Because, these days, the default alternative is an online store, and we simply can't get on board with recommending eCommerce as a suitable option for an engagement ring. There are so many flaws and potential pitfalls to shopping online for a purchase this unique and this important, and even an unoriginal chain jewelry store has certain advantages over an online vendor.
Thankfully, it's not an either/or choice between an unoriginal chain jewelers and an online store, and every state boasts an incredible choice of reputable jewelry stores that will truly help you to get the perfect ring for your proposal.
You can take a look at our Jewelry Store Locator to find a list of recommendations for your state or city. Every one of our recommendations comes from experience, and from the store's ability to meet our high standards for quality and service, so you don't need to worry about taking a wrong turn and winding up somewhere subpar.